央视新闻媒体CGTN(中国国际电视台)报道蜀道高速集团成宜智慧高速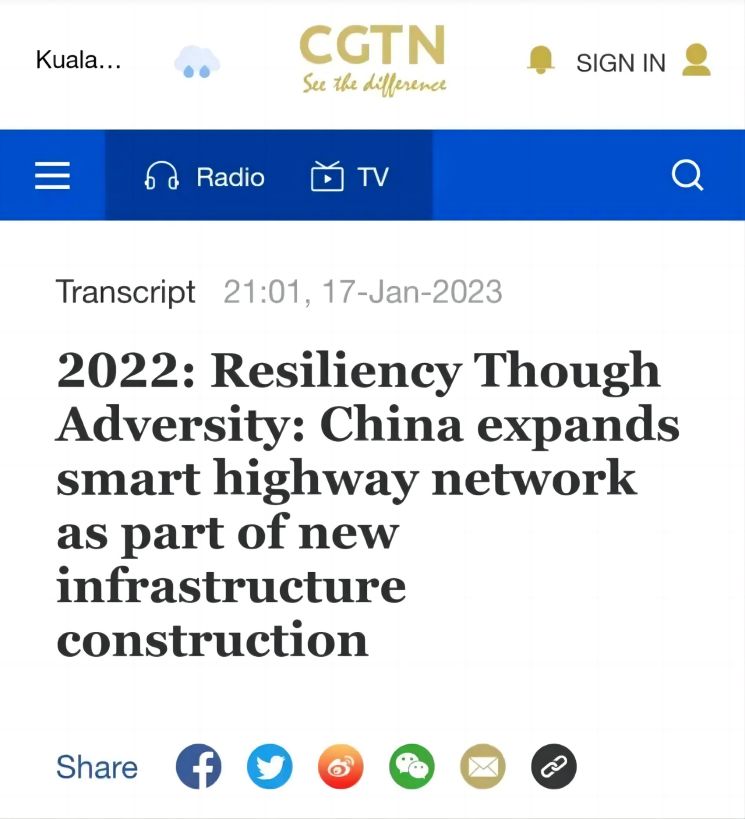 2022:Resiliency Though Adversity: China expands smart highway network as part of new infrastructure construction
China's network of smart highways is gradually expanding, part of the high-quality development concept being incorporated into new infrastructure. Our reporter Guo Tianqi visited a smart highway in Southwest China's Sichuan Province, to find out more.
Digital applications are not only for mobile phones and computers, but also applicable for traditional transportation infrastructure. The 157 kilometers highway from Chengdu to Yibin is being called China's first "total factor" smart highway. There is a smart pillar every 800 meters, equipped with radar and cameras to collect road information. This allows drivers to be informed by phone or apps about traffic or accident problems ahead of them, and to receive suggestions of alternative routes. The information can also be used to quickly send police and other emergency vehicles to accident s.
For that to happen, high-speed Internet is essential.
LI WEI Technical Director, Future Traffic Engineering Academy, Shudao Group "The Internet infrastructure is the blood vessel of smart infrastructure, connecting all the components on the smart highway, and the low-latency network is an important guarantee for real-time monitoring."
Each pillar has a computer for preliminary calculations, but it still requires a lot of computing power to support it.
GUO TIANQI Chengdu, Sichuan Province "Here is the brain of the CHENGYI smart highway. When an accident occurs, the intelligent pillar can recognize the event within a millisecond. And within one second, the of the vehicle and information about the driver will be sent to police and other vehicles on the road."
China is weaving a new infrastructure construction network to absorb the scientific and technological achievements of the digital revolution into the real economy. For example, the construction of smart highways requires the coordination of multiple departments, and technical support from scientific research institutes. Applications for users are developed by leading internet companies.
YANG YANG Assistant President, Future Transportation Engineering Institute, Shudao Group "We attach great importance to overcoming the difficulties in technology and application with our partners, through our successful practice, we can reduce the cost and help popularize our smart highway construction in other regions."
Last year, the Shudao Group alone has built more than 1,000 kilometers of smart highways. Zhejiang, Hunan, Shandong and other provinces also built multiple smart highways. With such convenient infrastructure, autonomous driving may not be far behind.
Guo Tianqi, CGTN, Chengdu, Sichaun Province.